The Tulsa Show 2018
June 1st- 2nd, 2018
The Historical Miniatures Society of Northeastern Oklahoma presents the 29th Annual TULSA SHOW at the Wyndham Hotel Tulsa. 

The HMSNEO was founded in 1982 as an organization to advance the painting and collecting of military miniatures and the study of history.  Scale models have also been a mainstay in the club and in recent years the HMSNEO has embraced and included fantasy figures.  

To attain these goals, the HMSNEO is pleased to sponsor the TULSA SHOW 2018, to provide a venue for painters, sculptors, modelers, and collectors from across the country to display their finest creations and acquisitions and to promote excellence in all skill levels represented at the show.

The Exhibition
Saturday morning, June 2nd at 8:00 a.m., the TULSA SHOW opens for registration of exhibits. The EXHIBITION HALL and VENDOR AREA will be open to the general public at 9:00 a.m. Each Exhibitor is required to register before entering the EXHIBITION HALL. The registration fee allows you a space of half the table's depth by three feet (3') in width for your entire display. If you require more space, please advise the Registration Desk upon registration.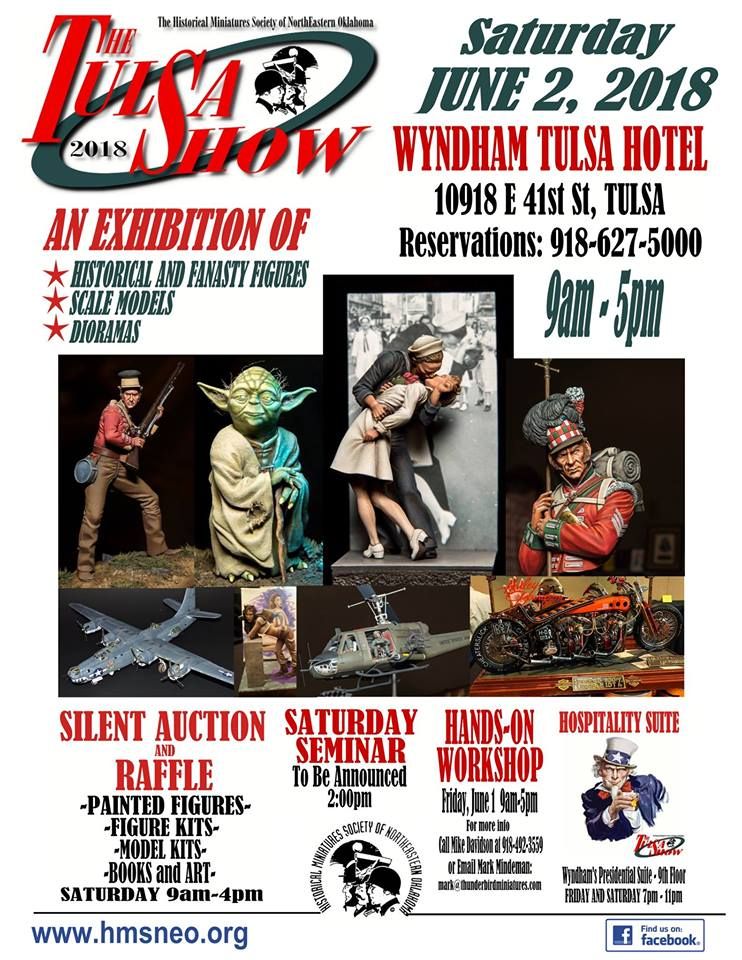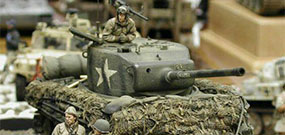 AUCTION OF PAINTED FIGURES

Click here for a list of auction items.
The annual auction of painted figures and scale models will be a silent auction held on Saturday June 2nd, 2018 in the show area. Of the pieces offered, some will be one-of-a-kind conversions painted and sculpted by award-winning miniaturists. This offers you a great opportunity to obtain a unique addition to your collection. FOR INFORMATION ON THE PIECES OFFERED IN THIS YEAR'S AUCTION, contact
MIKE DAVIDSON @ 918-492-3559 OR BY EMAIL: mike@thehussar.com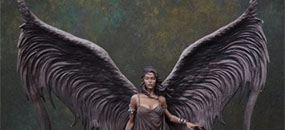 SEMINARS
Click here for more information on the current schedule of seminars! We hope to see you there!
Painting Oak Leaf Pattern Camouflage
Friday June 1st

Please contact Mike at (918)492-3559 or mike@thehussar.com
Class fee is $100.00
HOTEL & RESERVATIONS
Tulsa Wyndham Hotel Information
The HMSNEO has been allotted a block of rooms at the Wyndham Hotel Tulsa. You may reserve your room by calling the hotel direct at (918) 627-5000.